Shopping is an exciting part of your holiday experience and time is usually allowed on some sightseeing tours for browsing and buying. Don't be afraid to bargain for the best price. Bartering is a way of life in Egypt and like it, or not, as a tourist you either have to play the game, or pay a high price.

For most tourists the idea of bartering is daunting and to be avoided at all costs. Whilst a few absolutely revel in the idea. Personally, I've got better at it and have even learnt a few tricks along the way. But whenever I return to Egypt the first few days are always a refresher course whilst I get back into the swing of things. One point to remember, if you are taken for a ride, and find you've paid a fortune for that pair of leather sandles that turn out to be camel skin, don't dwell on it. Simply learn from your experience and don't let it spoil the rest of your holiday. It happens to the best of us. I once paid £50 for two small papyrus pictures! The seller probably went on holiday with his profit on the sale.

Still not sure its for you?!
If you really do not fancy honing your bartering skills with the locals, then the solution to your problem is to buy all your presents and souveneirs at the 'fixed price' government shops. These can be found in most of the hotels and on the Nile cruise boats. It certainly makes life easier and in some cases it guarantees quality of goods - as in gold items. However the cost of everything will be greater. But that's the price (forgive the pun) you have to pay for hassle free shopping.

Egyptian markets sell a huge variety of locally manufactured products and handicrafts. Khan El-Khalili is the most famous suq (market) in Cairo and is well known for its gold, silver and brass goods which demonstrate the skill of Egypt's craftsmen. Leather products and jewellery are attractive and relatively inexpensive.

For more information see our Egyptian Travel eBooks: and Nile Cruise Paperback These books contains illustrations, anecdotes, hints and tips, personal examples, phrases, local dishes, suggestions, facilities, general information, hassle and bartering tips, useful links, recommendations, boat layout, entertainment, more detailed schedule etc.



HAVE FUN!!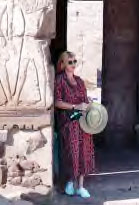 Me, at the Temple of Medinet Habu, Luxor.




USE THIS CURRENCY CONVERTER TO FIND THE VALUE OF YOUR MONEY IN EGYPTIAN POUNDS.
Or if you want to know the local exchange rate of any country?
To return to this page after using the currency converter, simply hit your 'back button'